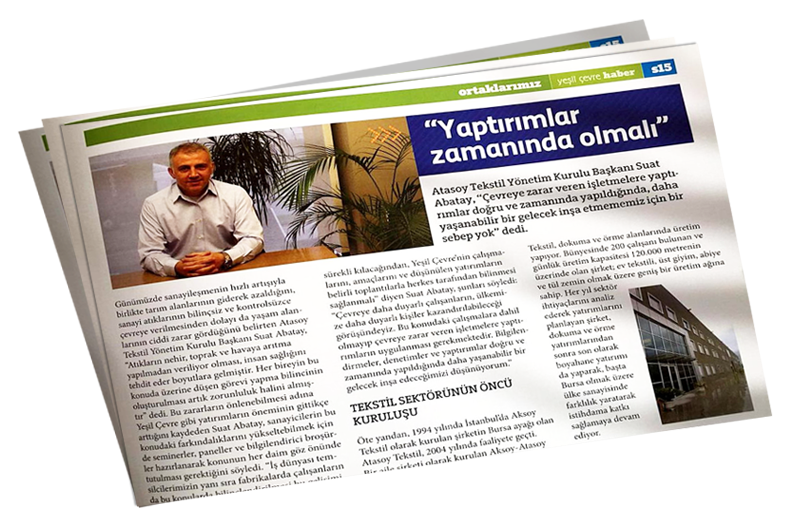 Chief Operating Officer of Aksoy Textile and the Head of Atasoy Textile Bursa, Suat Abatay, stated: " If the authorities enfore the necessary and often mandatory sanctions punctually to those businesses with unethical and harmful approach towards the environment, we have no reason not to build a sustainable and liveable future."


Suat Abatay stated that with the ascending acceleration of industrialization, we observe the agricultural areas are gradually diminishing. Living quarters are extremely damaged because of unconscious and unrestrained pollution of industrial waste. He added: "The industrial waste being dumped to rivers, soil and to the atmosphere without being filtered properly puts the human life at great risk." In order to prevent all sorts of pollution to the environment in which we operate, we must ensure that significant importance is given to organisations such as Yeşil Çevre. To enhance the awareness of businessmen of Bursa, seminars, panels and informative brochures need to be presented at all times. "In addition to the business representatives, our employees also need to develop the exquisite awareness of such matters. This is how we achieve a sustainable and significant reform. The plans, investments and efforts of Yeşil Çevre must be revealed and explained in certain conferences to build the mind set of tomorrow." said Suat Abatay. He added: "Environmentally-conscious employees will play a pivotal role in the goal to bring sensible individuals to our country. Necessary santions and penalties should be imposed to those businesses that do not follow this mind set and are harmful to our environment. As I said before, the right enlightenments, audits and sanctions at the right time is the key to a sustainable and liveable future.
A Pioneer Establishment in Textiles Industry
On another note, Atasoy Textile began operation in 2004 as a secondary plant of Aksoy Textile which was established in 1994. As a family-owned business, Aksoy-Atasoy Textile operates in manufacturing of knitted and woven fabrics. The company provides employment to over 200 people and maintains a daily production over 120.000 metres of fabric. The wide product mix of Aksoy-Atasoy Textile consists of home textiles, outer garments, evening gowns, and tulle backcloth. The company sets its strategic and operational objectives by delicately analysing the needs of the industry. Additionally to its investments on knitting and weaving machinery, the company made a remarkable investment on a dyeing plant and continues its fast paced journey to success, while providing employment and making its contribution to the macroeconomy of Turkey.